Financial Aid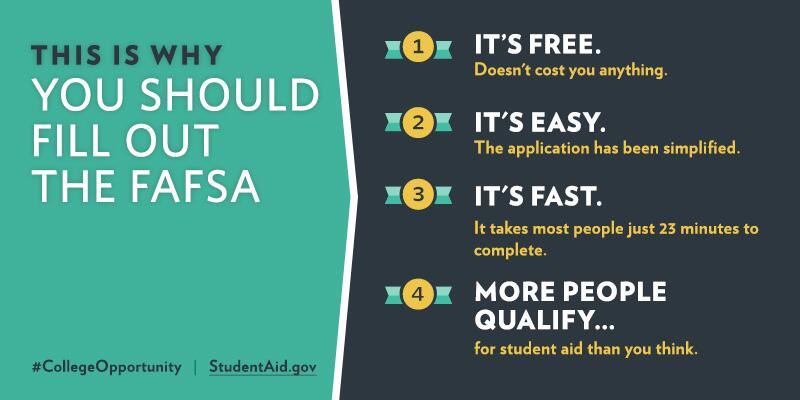 Financial Aid - Do's and Don'ts
DO:

Create an FSA ID now at fsaid.ed.gov. You and a parent must each have a Federal Student Aid Personal Identification Number (FSA ID) to log into and electronically "sign" your FAFSA.
Keep your FSA ID and passwords in a safe place. Your FSA ID is as important as your social security number. Don't share it with anyone.
Complete the FAFSA online at studentaid.gov
Read every question carefully and complete every field according to the instructions.
Remember, when the FAFSA refers to "you," and "your," it means, you, the student, NOT your parents or family.
Use your legal name, as shown on your Social Security card.
Enter your Social Security Number (SSN) carefully. An incorrect SSN may delay your FAFSA and you may miss important college financial aid deadlines.
Answer "yes" to the questions about your interest in different types of federal aid, such as work-study. You won't be obligated to accept offers you don't want and answering "no" will not afford additional grant money.
Count yourself, the student, as one of the people in your family who will be college students during the award year.
Consider including more than one college in your FAFSA - there's space for 10 colleges - so you can compare financial aid.
Have your most recent federal income tax form on hand to complete the FAFSA's financial questions. If available, use the IRS Data Retrieval Tool to have your federal information automatically transferred.
Carefully review the Student Aid Report (SAR) emailed to you after the FAFSA has been processed. Verify that all information is correct. If needed, you can make corrections to your FAFSA at studentaid.gov
File a FAFSA each year you attend college to request aid. The online FAFSA will remember you from previous applications, so you will only need to provide updated information.

DON'T:

Procrastinate – complete the FAFSA as soon as possible after October 1st of your senior year of high school. Many colleges have early deadlines for consideration of scholarships, grants, and other forms of financial aid.
Assume you don't qualify for financial aid! At least 1.7 million students nationwide don't complete a FAFSA because they think they are ineligible. But, about one-third of those students would have qualified for a Pell Grant, including many who would have qualified for a full Pell Grant, worth $6,195.
Decide you don't need to complete the FAFSA. Many scholarships and grants are based on merit and other factors, but still require a FAFSA for consideration.
Use decimal points when completing financial sections. Decimals are not recognized during processing, so $500.00 will be misread as $50,000.
Forget to sign the form using the correct federal FSA IDs for you and your parent.
Forget that the first word in FAFSA is "Free." Beware of anyone charging a fee to file the FAFSA for you. There is no "secret" method of qualifying for more aid, nor do you have to pay to file the application.
How to Create Your FSA ID
How to Fill Out the FAFSA
After the FAFSA: What Happens Next
California Dream Act Application
Watch this video to get more information on the CA Dream Act Application
Last Modified on November 19, 2021