Meet Stagg's Counselors
ATTENTION: AS OF AUGUST 10TH, 2020, THERE ARE NEW COUNSELOR ASSIGNMENTS. PLEASE FIND YOUR NEW COUNSELOR BELOW (BY LAST NAME).

Please feel free to contact your counselor Monday - Friday between 7:30am - 2:30pm. If you'd like to speak with your counselor, please email your counselor (found under their name) or click the appointment request link (found under your Counselor's name).
Ms. Laura Rodriguez, Department Chair
Ms. Rodriguez has been a counselor for over 15 years and working in the District for over 20 years. Prior to coming to Stagg, she was a Child Welfare and Attendance counselor for 8 years. She looks forward to helping students become successful in life.
Mrs. Samantha Wirzberger
Mrs. Wirzberger is a proud member of Stagg High School's Counseling team. She grew up in Stockton attending SUSD schools K-12 and is a graduate of Edison High School's class of '89. Mrs. Wirzberger earned her Bachelor of Science degree from UC Davis in Human Development in 2003. She completed her Master's degree in Educational School Counseling and PPS credential from National University in Sacramento. Mrs. Wirzberger started her career as an Elementary School teacher with SUSD in 1997 and joined Stagg in 2002 as a School Counselor. She describes herself as light-hearted, compassionate, and kind.

"There are no secrets to success. It is the result of preparation, hard work, and learning from failure." - Colin Powell
Mrs. Pat Klopstock
Education: (H.S.) Franklin High; (A.A.) Social Science - SJ Delta College; (B.A.) Behavioral Sciences - National University; (M.A.) Counseling Psychology - National University. Credentials: Pupil Personnel Services Credential, Lifetime Limited Services Credential Junior College - Early Childhood Education. Education Experience: Pre-School Director (17 years); V-Principal for Private Elementary School (10 years); Mariage Family Therapist Intern - Domestic Violence Group Leader - Valley Community Counseling Services (VCCS); Children's Mental Health Counselor (VCCS) at El Dorado Elementary (4 years), SAP Coordinator/ K-8 Counselor - El Dorado Elementary (9 years) Hobbies/Interests: Spending time with my children and my 17 grandchildren, traveling with my husband, visiting Disneyland, and relaxing in my backyard enjoying our Koi pond.
Ms. Erin Metcalf
Ms. Metcalf is new to the Stagg High team this year. She earned her BA in Psychology at CSU Chico, MA in Educational and Counseling Psychology at University of the Pacific and PPS Credential in School Counseling at UOP. Ms. Metcalf began working as a School Counselor in 2002 and joined Stagg in 2019. She came to the high school because she loves working with the older students and encouraging/inspiring them to be the best students they can be and work towards their graduation goals.
Mrs. Segura (formerly Ms. Esparza)
Mrs. Segura (formerly Ms. Esparza) attended SJDC, Class of '10; Fresno State, Class of '12 & '15. She began counseling after graduating from Fresno State for the Department of Residence Life, Housing and Dining Services at Missouri State University, located in Springfield, Missouri. She is a Stagg Alumni, Class of 2008. She describes herself as motivated, independent and empathetic.

"Be the change you wish to see in the world." - Gandhi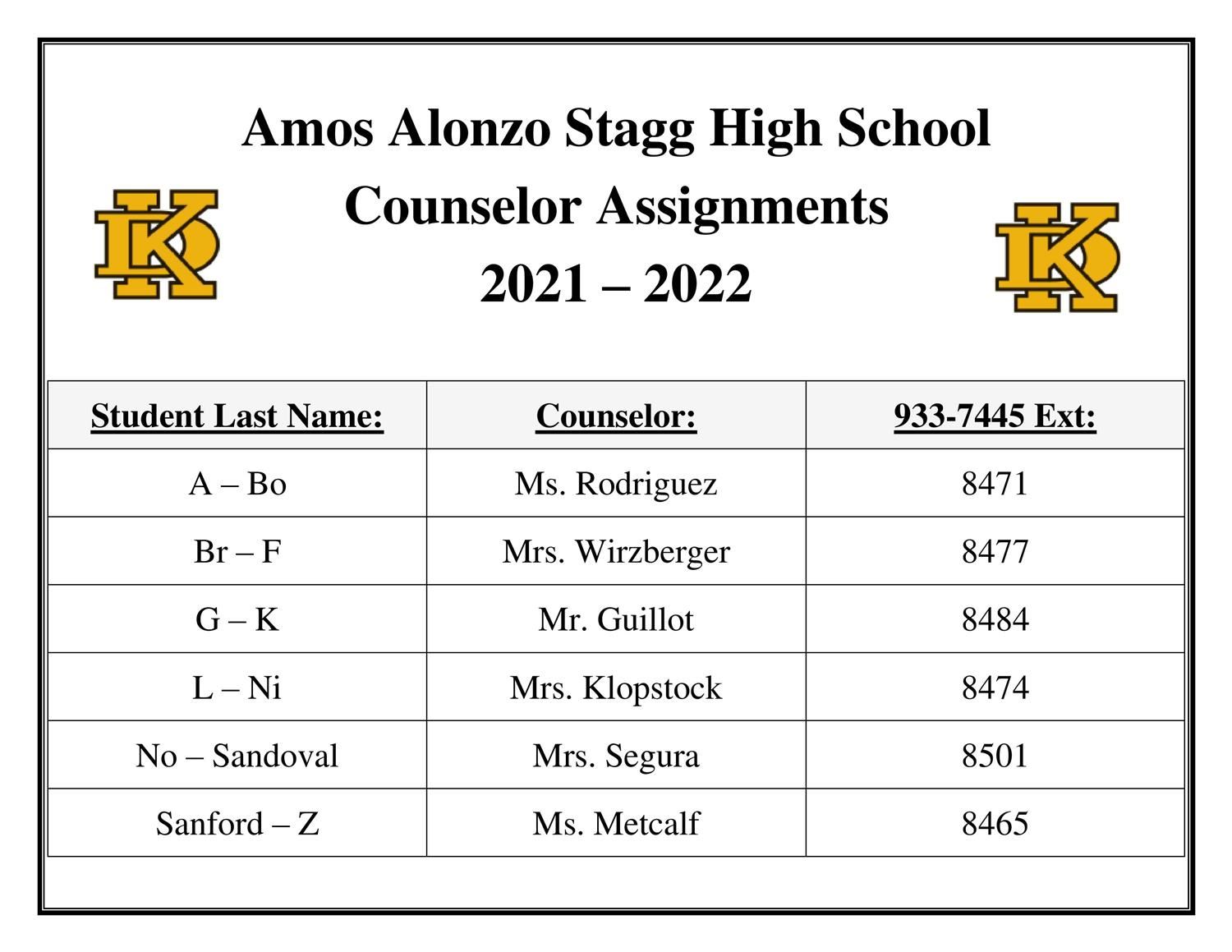 Stagg's Mental Health Clinician:

Arica Arucan, LCSW #72691

Mental Health Clinician l Stagg High School

Mental Health & Behavioral Support Services

Stockton Unified School District

District Cell: (209) 662-5986

Fax #: (209) 547-1287

Email: aarucan@stocktonusd.net