Ms. Laura Rodriguez, Department Chair
Ms. Rodriguez has been a counselor for 15 years and working in the District for 20 years. Prior to coming to Stagg, she was a Child Welfare and Attendance counselor for 8 years. This is her first year as guidance Chair counselor and she looks forward to helping students become successful in life.
Mrs. Samantha Wirzberger
My name is Samantha Wirzberger and I am proud to be a member of Stagg High School's Counseling team since 2002. I grew up in Stockton, CA attending schools in Stockton Unified from Kindergarten to 12th grade. I graduated from Edison High School in 1989 and attended the University of California, Davis earning a Bachelor of Science degree in Human Development in 1993. I completed my Master's degree in Educational School Counseling and Pupil Personnel Service Credential and proudly joined Stockton Unified School District in 1996 as an Elementary School Teacher. When I am not working, I enjoy gardening, traveling, cooking, and spending time with my husband and 2 daughters.
Mrs. Pat Klopstock
Education: (H.S.) Franklin High; (A.A.) Social Science- SJ Delta College; (B.A.) Behavioral Sciences- National University; (M.A.) Counseling Psychology- National University. Credentials: Pupil Personnel Services Credential, Lifetime Limited Services Credential Junior College- Early Childhood Education. Education Experience: Pre-School Director (17 years); V-Principal for Private Elementary School (10 years); Mariage Family Therapist Intern- Domestic Violence Group Leader- Valley Community Counseling Services (VCCS); Children's Mental Health Counselor (VCCS) at El Dorado Elementary (4 years), SAP Coordinator/ K-8 Counselor- El Dorado Elementary (9years) Hobbies/Interests: Spending time with my children and my 17 grandchildren, traveling with my husband, visiting Disneyland, and relaxing in my backyard enjoying our Koi pond.
Mr. Kevin Oki
Mr. Oki is excited for the upcoming school year and looks forward to working with and getting to know his caseload of Stagg students!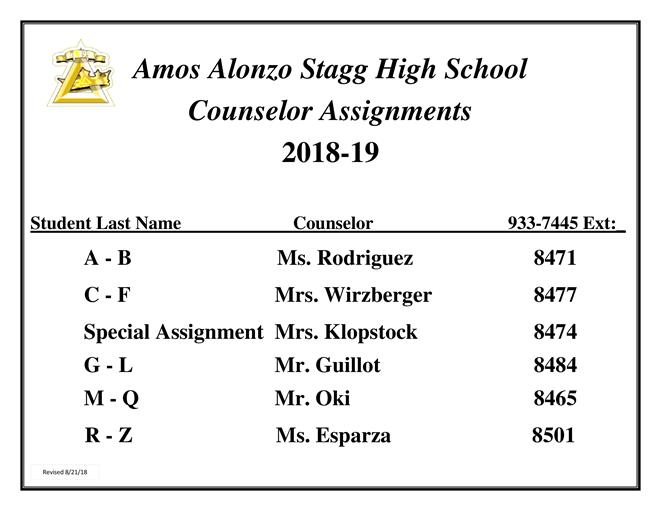 Angelica Esparza
This is Ms. Esparza's first year as a high school counselor and she is excited to begin her new job here at her alma mater.

After graduating from Stagg in 2008, Ms. Esparza attended two years at San Joaquin Delta College and earned an Associates Degree. Following Delta College she transferred to Fresno State to earn a Bachelors Degree followed by the completion of her Masters Degree in Counseling. In 2016, she returned home to proudly serve the community she grew up in.

During her spare time, Ms. Esparza loves watching movies, reading, traveling, shopping and spending her time with family and friends.
Mr. Andrew Guillot
Mr. Guillot is new to the Stagg Counseling Department. Welcome to our team!
Mr. Bryant Williams, CWA Counselor
I'm a native of Los Angeles, CA. I've worked as a Sub teacher, Counselor k-12, and many other ventures in my life. I've been blessed for 26 years of marriage, and raised three sons (21, 24, 26) as well as being a proud grandpa of (3). Nevertheless, I will be servicing STAGG on Tues. and Fri. I look forward to a fruitful year of great attendance and academic success at STAGG.
Personal/Social

Child Welfare and Attendance (CWA) Counselor
Mrs. Rodriguez