* If you are experiencing a mental health emergency, please contact our county hotline at 1-209-468-8686, National Lifeline at 1-800-273-8255 (en espanol 1-800-628-9454), text "Hello" to the Crisis Hotline 741741, call 911, or go to the nearest emergency room / hospital.

Counselors are available through
Jupiter/Email/Phone/In Person Appointments
from 9am-3pm, Monday - Friday.

REQUEST TO MEET WITH A SCHOOL COUNSELOR

*Important*

The Counseling office and services are always available for emergency or urgent needs.
Please let any adult on campus know that you need to see a school counselor immediately.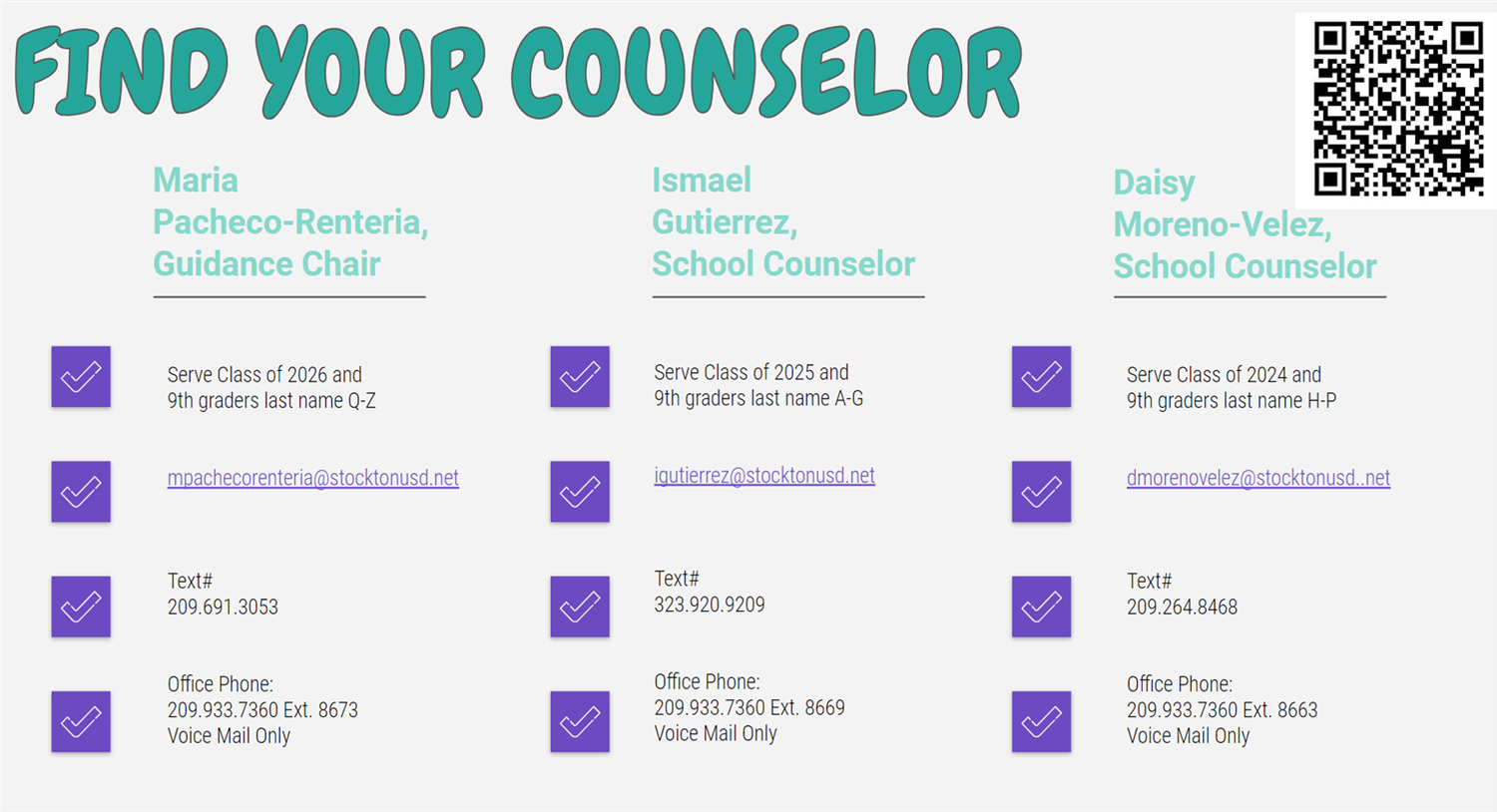 HCA COUNSELING DEPARTMENT

HCA SCHOOL CODE/CEEB: 054631

HCA Counseling Vision

The vision of the Health Careers Academy High School comprehensive counseling program is to ensure all students are successful in college and in their careers by incorporating the values of being professional, academically inclined, service-oriented, emotionally strong, integrity driven, optimistic, and nurturing to the surrounding community.

HCA Counseling Mission

The Mission of Health Careers Academy School Counseling Program is to provide each student with the opportunity to acquire the attitude, knowledge, and skills for an academic, career, and emotional/social development in a safe and supportive environment. The comprehensive school counseling program will educate and empower a collaborative community of learners to achieve academic success and develop life skills to become lifelong learners, critical thinkers, and responsible community members in a diverse, changing world. Students will learn how to be professional, academic, service-oriented, emotionally strong, display integrity, be optimistic, and nurturing to the surrounding community.

REQUEST TO MEET WITH A SCHOOL COUNSELOR

*Important*The Counseling office and services are always available for emergency or urgent needs. Please let any adult on campus know that you need to see a school counselor immediately.

REQUEST AN UNNOFICIAL TRANSCRIPT by sending a Jupiter message to your counselor requesting an electronic or paper copy.

REQUEST AN OFFICIAL TRANSCRIPT by sending a Jupiter message to Olga in the front office. She will reply when it's ready to pick up.

HOW TO ASK FOR LETTERS OF RECOMMENDATION

Resources for Students and Parents

San Joaquin 211: Resources to housing/shelter, healthcare, counseling, food, legal services and more. 24 hours/7 days a week. Free and Confidential

National Alliance on Mental Illness (NAMI): Call the NAMI helpline 1-800-950-6264 or in a crisis text? Text NAMI to 741741

National Alliance on Mental Illness of San Joaquin: NAMI San Joaquin County is a grassroots family, client and community member organization, dedicated to improving the lives of people with mental health challenges and the lives of their families and friends. These challenges are known as neurobiological brain disorders or psychiatric disabilities.

NAMI San Joaquin County Resource Guide

National Suicide Prevention Hotline: 1-800-273-8255 or Text 741741

IMPORTANT SAT CODES:

3594: Sends to all CSU's

4129: UC Merced (will also send to all UC's)

4065: UOP

IMPORTANT ACT CODES:

0435: CSU STANISLAUS

0450: UC MERCED

0240: UOP
UNIVERSITY OF CALIFORNIA A-G LIST

CAREER EXPLORATION

MILITARY OPTIONS

MEDICAL PROGRAMS
Last Modified on August 15, 2023