Weber Institute's new tutoring schedule aims to help as many students as possible. With two sessions available, students will have an opportunity to attend either one or both. Students that attend any tutoring session will receive HERO points as well. The first session will be from 7:15 A.M to 8:15 A.M. The second session will start at 3:45 P.M and end by 4:45 P.M.

Please keep in mind that tutoring sessions in the morning are still limited to subjects. Please refer back to the schedule attached to this message.

If you have any questions, please contact the front office.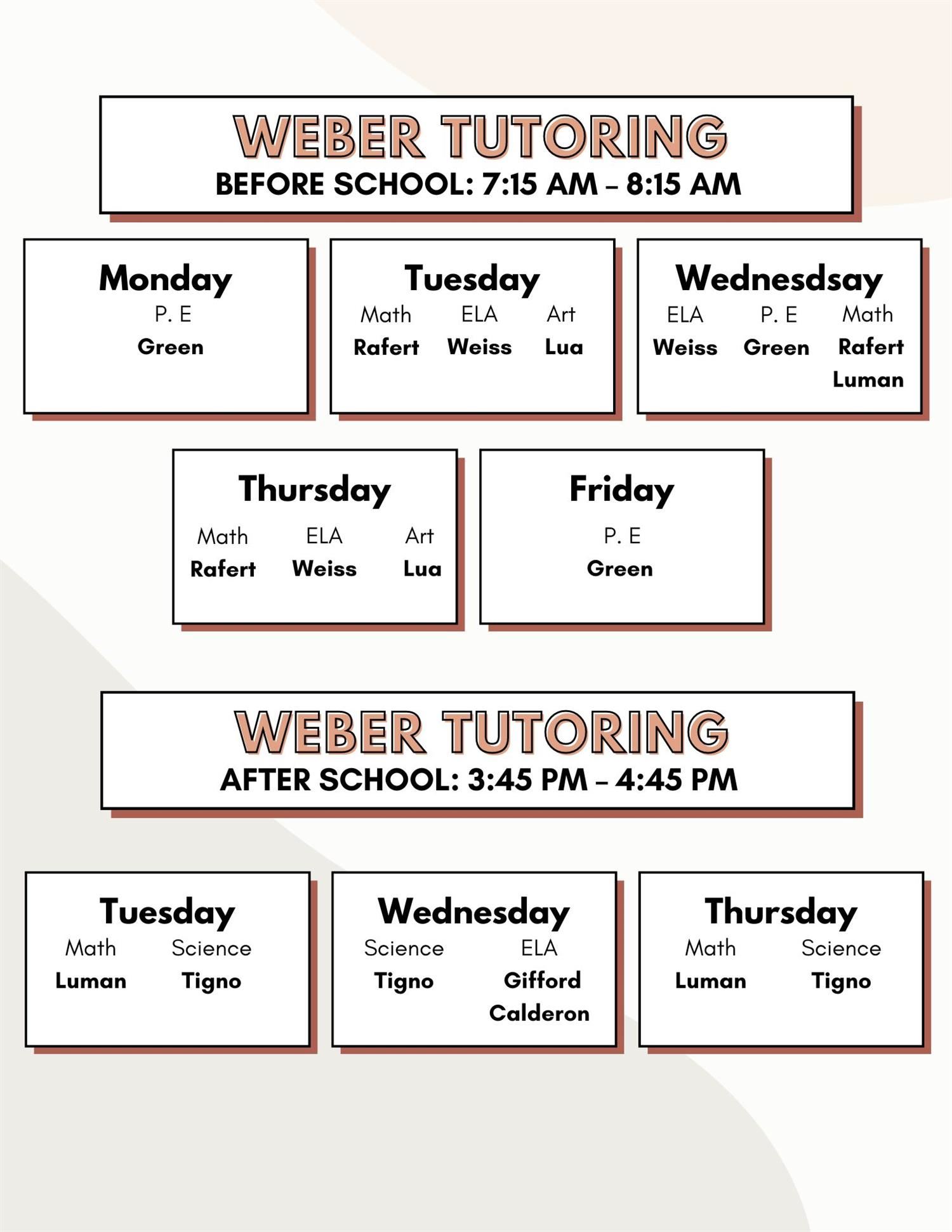 Student Resources

Weber staff is here to help you. Our purpose is to help you successfully enter Weber, learn and grow, graduate and move into a career and/or college. To help you discover who you are and what you want to do, we have provided you with the following resources:

The California Career Center is a comprehensive source for career and college resources and has tools to help you map your future.

The California Career Zone is a web-based career exploration system providing four easy to use career assessment tools that connect you with information on occupational options and colleges.

The California Reality Check is an online budgeting exercise that enables you to build a budget that supports the lifestyle you want as an adult. Then it links those budget choices to occupational and educational goals.

The California Career Planning Guide is a hard copy resource (100 pages) that guides you in developing a personal career action plan. It is available in English and Spanish.

NEED A TUTOR?

If you need help with homework, understanding science & math, or bringing your reading and writing skills up, you may need a tutor. The district provides tutoring through outside providers at no or low cost depending on the family's income. To learn more, follow the link below.

Supplemental Educational Services

LEARNING LINKS FOR STUDENTS