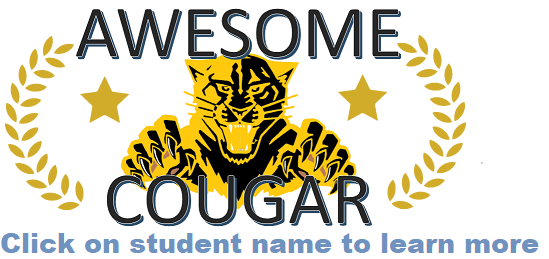 First Grade
Nominated by: Mrs. Wagner
Her teacher says: Delilah is a hard working, polite and well behaved student. At any time of the day, she can be seen on task, doing what she is supposed to be doing and leading by example. She helps her peers when needed. She is an excellent reader, making over 100% of her AR goal for the 1st and 2nd trimester. She is an honor roll student as well.

3rd Grade
Nominated by: Mrs. Morelli
What her teacher says: "Marily is an all-around amazing student and awesome member of our Commodore Skills community! She is hard-working and helpful in the classroom. She is kind to others and takes it upon herself to help her fellow classmates if she sees them struggle. She always goes out of her way to bring a smile to her classmates' faces.."

6th Grade
Nominated by: Miss Munoz
Her teacher said: "Destiny is a considerate and accountable student. She always puts forth her best effort to ensure her work is high quality. Destiny's optimistic attitude and flexibility has made her one of the most admired students in my class. She is friendly and always willing to help everyone around her. She has role modeled the expectations of what it means to be an upstanding student. One of the most admirable traits she has demonstrated is her ability to have patience with her peers. It has been a pleasure to have Destiny as a student for her sixth grade year. "