Principal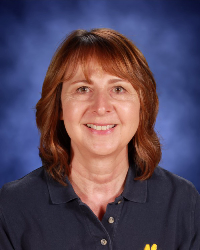 Phone: 209.933.7170
Email:
Degrees and Certifications:
Welcome to the 2022-2023 School Year

July 29, 2022

To: Commodore Parents

From: Mrs. Stubblefield, Principal

Welcome to the 2022-2023 school year! I am so excited to be starting school again! It's an exciting time, with the promise of a brand new school year ahead of us!

Commodore's three goals are to raise all students' achievement, to ensure a safe environment, and parent engagement.
Commodore is a STEM school (Science, Technology, Engineering, and Mathematics). Every student will receive STEM instruction using the Project Lead the Way curriculum. This hands on curriculum includes bio medics, computer programming, and engineering. It teaches problem solving skills that transfer to all subject areas.
Parent involvement is a huge part of what makes Commodore Stockton Skills School such an amazing school! However, to increase student and staff safety, no parents will be allowed on campus at this time. When parents are allowed on campus again they must sign in and out in the office. This includes before and after school.
We have many opportunities for parents to become involved in their child's education. Become a school volunteer! There is a correlation between parent involvement and student success. The first step is to create an account on Be A Mentor, you can find the link on our website. No in-person volunteering at this time but there are ways to help your teacher in other ways. Commodore has an exceptional PTA that provides many fun activities for students and families such as our Fall Carnival and Family Movie Nights. They also conduct fundraisers throughout the year which provides funding for field trips, playgrounds, student benches, and our beautiful mural. We hold parent coffee hours monthly, this is a time when parents can learn about different resources. Our "lunch on the lawn" events are held monthly and everyone is invited to come have lunch with their children. We also have academic assemblies at the end of the trimesters. Please read the monthly parent calendar, parent newsletter, and our website to keep updated on school events. (All large events are tentative based on social distancing guidelines)
I am looking forward to working with parents to ensure that your child has a positive and enriching school year. Together we can make 2022/2023 a fantastic school year!
Mrs. Stubblefield, Principal

2022-2023 School Year