Connect with us!

Get text reminders for parent activities. Just enter the number: 81010 in your cellphone and text: @hzell for A-M last names OR @3chb2f for N-Z last names. Select the role "parent" once you join and write your kid's name in parenthesis. Example: Jack Smith (Cindy Smith).

¡Conéctese con Nosotros!

Reciba mensajes de texto recordatorio de actividades de padres. Solo marque el número: 81010 en su celular y envíe el texto: @hz@hzell para apellidos A-M ó @3chb2f para apellidos N-Z. Selecione el rol "padre" cuando se una y escriba el nombre de su hijo en paréntesis. Ejemplo: Jack Smith (Cindy Smith).
A-M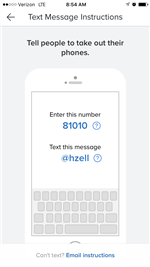 NZ