Reporting Phishing eMails Just Got Easier
Reporting Phishing Emails
Everyone at the District is encouraged to report suspicious emails that are designed to scam someone of their money, identity, or anything worth selling in the dark web. We generally refer to such emails as phishing emails.
The general practice for reporting phishing emails have been to forward such mails to abuse@stocktonusd.net. Well, today you have more options. The easiest way to report such emails is to click the Phish Alert Report button within the Outlook program. It looks like this:

If you are using the web version of Outlook, you'll find the Phish Alert V2 menu item as follows:
From the email in question, click the link represented by the three dots (see #1 below).
A menu will show. From the menu, select Phish Alert V2 (below).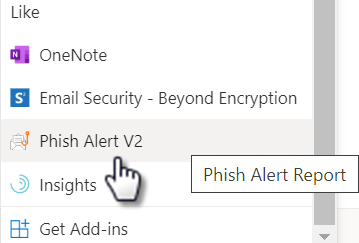 That's all to it!