Return to Headlines
Edison: A National AVID Demonstration School
2017
Edison High School students filled the multipurpose room today to receive some amazing news- the school has been re-certified as an AVID Demonstration school! This distinguished honor, first received by the school 2 years ago, is only given to around 120 of the 5,500+ schools in the nation that offer AVID.
"It means a lot to me personally to get to see this kind of powerful work happening in Stockton and how fortunate [the students] are to learn in a place like this with educators who really authentically care about students," said AVID Curriculum Manager Timothy Bungo, who announced the news today.
The school will not need to be re-validated to continue as a national demonstration school for another 3 years, which is the longest certification period awarded.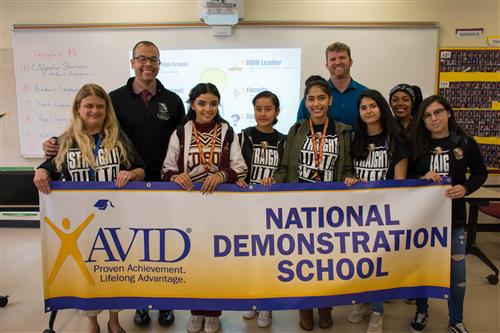 2014
Edison High School has been named a national AVID demonstration school, meaning the Edison Advancement Via Individual Determination program will be a showcase of best practices for promoting a college bound student body in a student population where few parents went to college themselves.
The school was reviewed by state and national AVID teams prior to receiving the organization's top honor. Fewer than 2 percent of schools across the country are chosen as demonstration sites. Edison's program, designed to move students from families without college backgrounds into advanced education, has been a huge success.
Edison's has a big AVID team, about 16 percent its student population. The staff and students cheered the day the announcement was made, following a special presentation by national AVID leaders. One hundred percent of Edison's AVID seniors applied to college this year and so far nearly 90 percent have been accepted for next fall. "The goal is that they go to UCs, so we aim for that bar and if they don't make it to a UC, they'll get into a CSU," said Edison AVID teacher Justin Moeckli.
Sheryl Peters, SUSD AVID Coordinator, was clearly moved by the national honor bestowed the school. Now Edison moves to replicate the program's success across the rest of the student body. Avid national directors credited Edison AVID teachers and staff with creating an effective program that is working for kids.
And the teachers shared that credit with their students. "This is really a reflection on them," Moeckli said. 'You can't stress enough that the children of south Stockton are fabulous kids and I wouldn't work anywhere else."
Principal Brian Biedermann, who led the effort to promote the program, said he was thrilled for his school. "I could not be more honored or more proud," he said.
"To achieve the honor of being an AVID Demonstration School, a school must exhibit a college-going culture evident throughout the campus, through rigor and high expectations for all students, " Biedermann said. "Edison's core program must provide excellent tutorials and quality implementation of the curriculum. A demonstration school takes on the role of being an AVID learning site for other schools and organizations to observe in action."