Return to Headlines
SUSD Cuts the Ribbon on New Head Start Center
Dozens of community members, staff, parents, and dignitaries joined the SUSD Early Childhood Education Department to cut the ribbon on the new Martin Luther King Jr. Head Start Center, located next to King Elementary School.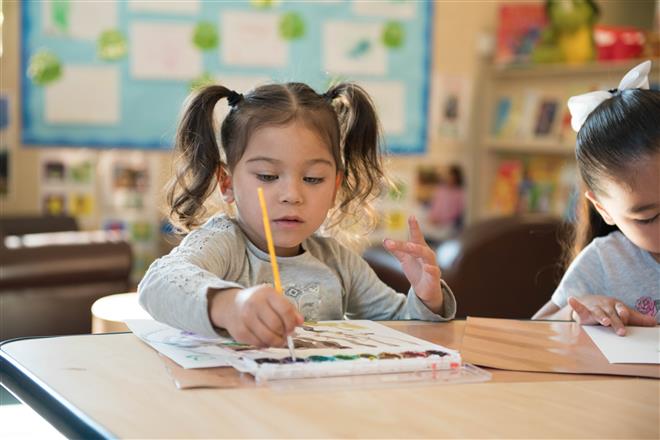 The new center includes three beautiful classrooms stocked with books, paint, blocks and everything else that will allow our youngest learners to explore, question and succeed at their own individual pace. The center is one of the ninety-three preschool programs available in the district.
"We believe that the journey of lifelong learning, positivity, and civic responsibility begin with preschool and are thankful that so many in the Stockton community share in our vision of equitable access to high-quality early childhood education," said SUSD Early Childhood Education Administrator Suzanne Devitt.
SUSD Superintendent John Deasy and Stockton Mayor Michael Tubbs both spoke to the importance of early education during the ribbon-cutting ceremony. Mayor Tubbs credited his time during Head Start to his later success as a Stanford graduate, White House intern, and Stockton mayor.
Superintendent Deasy also spoke to the significance of the center's namesake before introducing King Elementary student Christopher Atkins to recite the famous "I Have A Dream" speech given by Martin Luther King Jr. in 1963.
Stockton Unified School District is committed to providing a language-based curriculum designed to meet the needs of children while integrating the development of the child's physical, emotional, creative, intellectual, social and cultural skills through experiential learning activities.
"We are one of many who has a vision of prosperity for the city of Stockton," said SUSD Early Childhood Education Director Debra Keller. "Through the efforts of Head Start, we believe this vision could be a reality as early learning programs help every child reach their fullest potential."
The SUSD Early Childhood Department would like to thank all who helped make this center a reality:
Architechnica
Enviroplex, Inc.
Lakeshore Learning
Stephens Construction
SUSD Early Childhood Education Department
SUSD Facilities Department

---
SUSD INAUGURA NUEVO CENTRO HEAD START
Docenas de miembros de la comunidad, personal, padres y autoridades se unieron al Departamento de Educación Preescolar del SUSD para cortar la cinta que inauguró el nuevo Centro Head Start Martin Luther King Jr. ubicado adyacente a la Escuela Primaria King.
El nuevo centro incluye tres hermosos salones de clase completos con libros, pinturas, bloques y todo lo necesario para que nuestros más jóvenes aprendices exploren, cuestionen y dominen a su propio paso. El centro es uno de noventa y tres programas preescolares que ofrece el Distrito.
"Creemos que el viaje de una vida de aprendizaje, positivismo, y responsabilidad cívica se inicia en la enseñanza preescolar y agradecemos que sean tantos en la comunidad estocktoniana quienes comparten nuestra idea de acceso igualitario a una educación infantil de alta calidad", dijo la administradora de Educación Preescolar del SUSD, Suzanne Devitt.
Tanto el superintendente del SUSD, John Deasy, como el alcalde de Stockton, Michael Tubbs, hablaron de la importancia de la educación temprana durante la ceremonia de inauguración. El alcalde Tubbs atribuyó sus logros como graduado de Stanford, pasante en la Casa Blanca, y alcalde de Stockton, a su experiencia inicial en Head Start.
El superintendente Deasy también se refirió al significado del nombre del centro antes de presentar a un estudiante de King, Christopher Atkins, quien recitó el famoso discurso de Martin Luther King Jr. "I Have a Dream (Yo Sueño)" de 1963.
El Distrito Escolar Unificado de Stockton se ha comprometido a ofrecer un plan de estudios basado en el lenguaje y diseñado para suplir las necesidades de los niños, al tiempo de integrarles aptitudes físicas, emocionales, creativas, intelectuales, sociales, y culturales por medio de actividades de aprendizaje en la práctica.
"Somos uno de muchos que vemos un futuro de prosperidad para la ciudad de Stockton", dijo la directora de Educación Preescolar de Stockton Debra Keller, "creemos que a través de la intervención de Head Start, esa visión puede ser realidad, porque una educación temprana ayuda a que cada niño se desarrolle al máximo".
El Departamento de Educación Preescolar del SUSD desea agradecer a todos los que nos ayudaron a hacer de este centro una realidad:
Architechnica
Enviroplex, Inc.
Lakeshore Learning
Stephens Construction
Departamento de Educación Preescolar del SUSD
Departamento de Dependencias del SUSD