Return to Headlines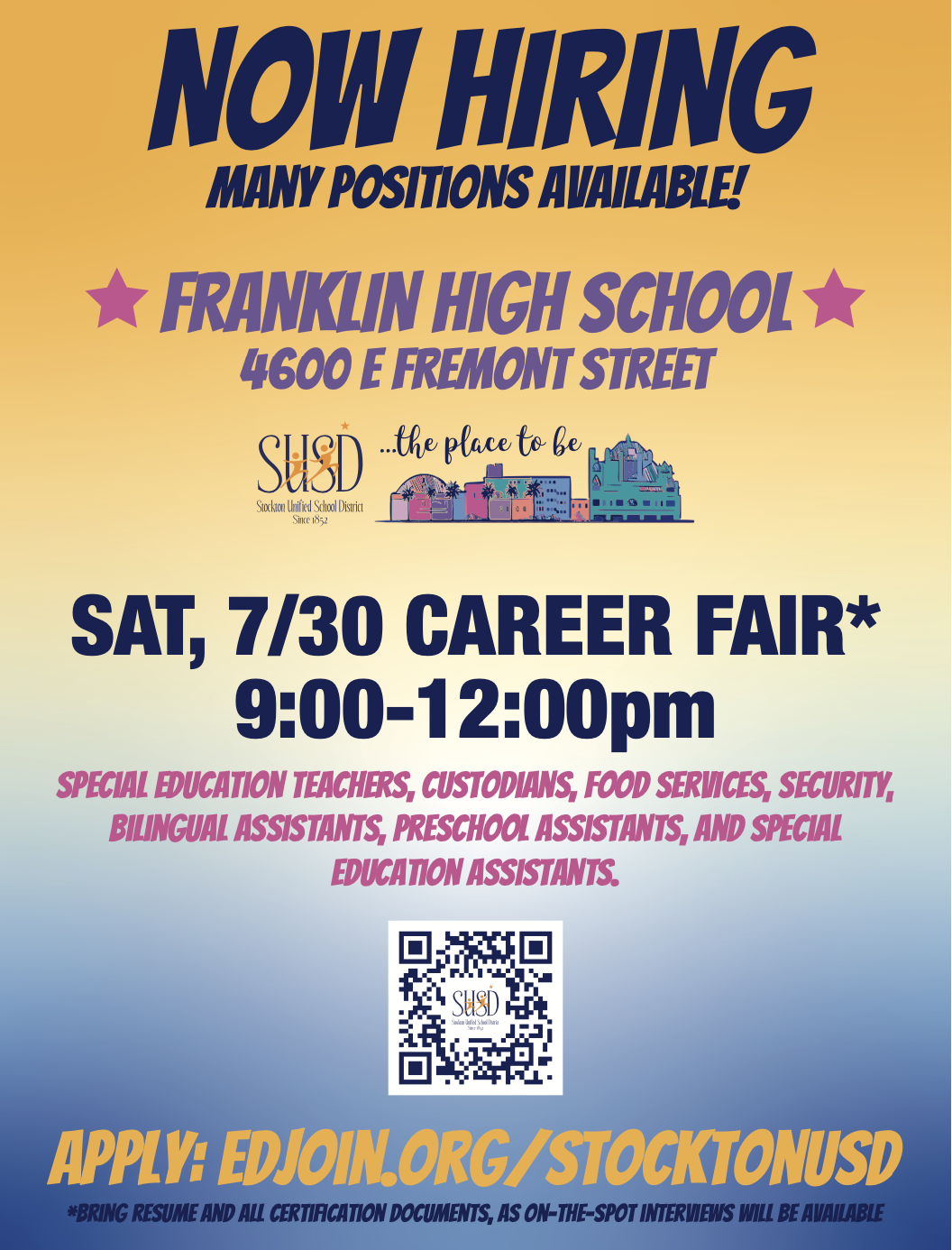 APPLY AT EDJOIN.ORG/STOCKTONUSD
Requirements to become a paraprofessional
90-Day Emergency Substitute Flyer
Our daily substitute teacher rate is now $200/day, up to $274/day for long-term assignments, and $350/day for returning retirees.
Stockton Unified School District is looking for more than two dozen teachers. This includes K-8 Multiple Subject Teachers, High School English Teachers, Elementary School Music Teachers, and Special Education Teachers. SUSD also has open positions for School Counselors, Specialized Teacher Assistants, Yard Duty Supervisors, and more.
We offer a competitive salary range, benefits package, and medical rebates. Please visit http://www.edjoin.org/stocktonusd to apply.
Contacts
Our mission is to graduate every student college, career, and community ready. In doing so, we lift all youth out of circumstances of poverty and scarcity.
---
Stockton Unified is hosting another recruiting weekend event for Classified Employees on June 10th from 4:30 pm - 730 pm and for Certificated Employees on June 11th from 9:00 am - 12:00 pm at Edison High School.
The Friday night event is for Classified positions, such as Paraprofessionals, Security, Custodial, Clerical, Transportation, Food Services, Parent/Community Support, and more. This will be an opportunity to speak with different departments within the district. This is also a time for candidates to apply for permanent and substitute positions and access assistance with the application process.
The Saturday morning event is for Certificated positions, including PK-12 teachers, Special Education teachers, counselors, psychologists, SLPs, and School Nurses. This will also be an opportunity to speak with different departments and schools within the district that are hiring. This is also a great time to apply in person for substitute teaching positions. On-the-spot interviews and contracts will be available for many positions at the certificated event.
For a listing of all classified positions that are currently open, click HERE.
For a listing of all certificated positions that are currently open, click HERE.
Please reserve your booth HERE by June 1st.