Return to Headlines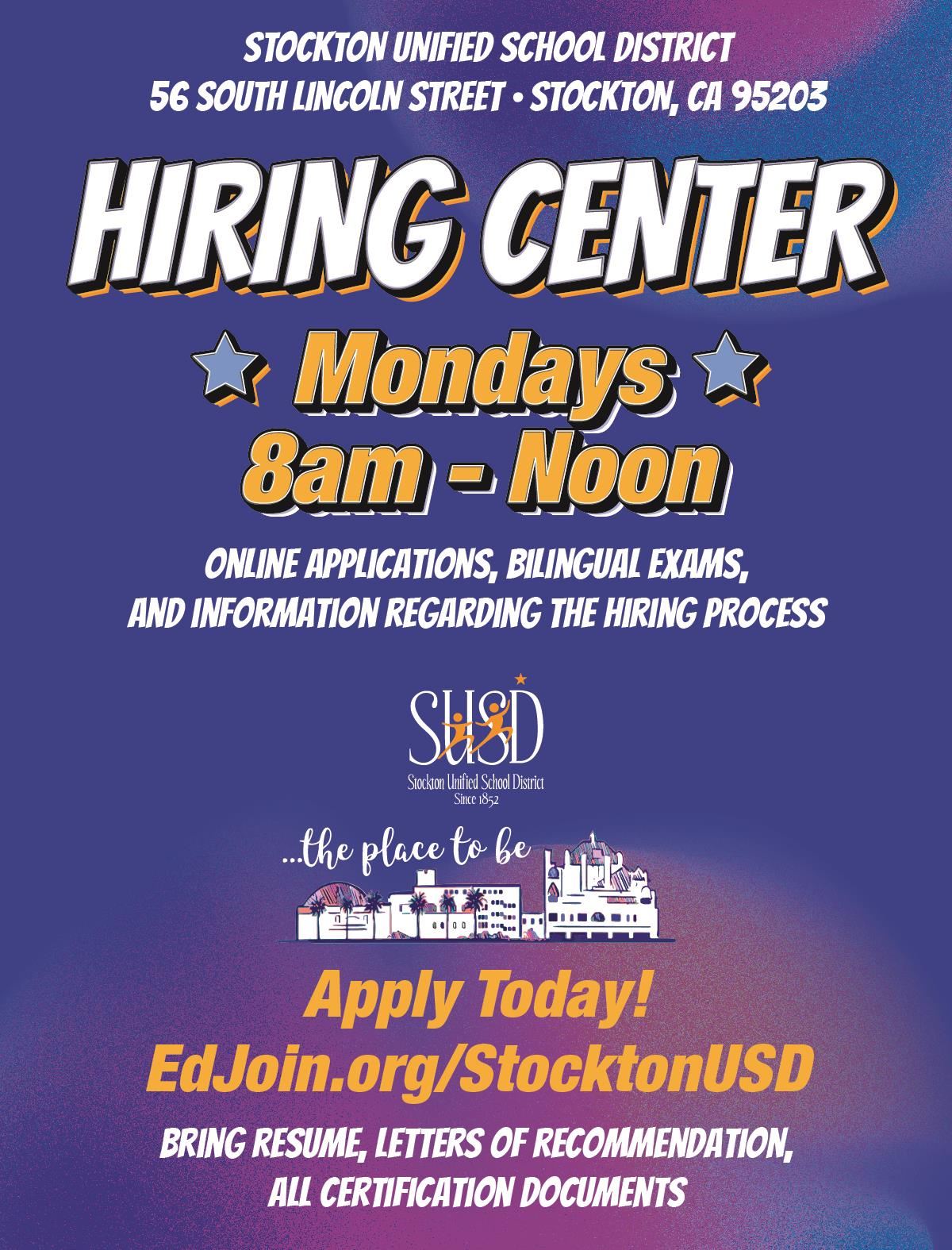 APPLY AT EDJOIN.ORG/STOCKTONUSD
Requirements to Become a Paraprofessional (Special Education, Bilingual, and Preschool Assistant)
90-Day Emergency Substitute Flyer
Our district offers competitive pay and a variety of Very Low-Cost Benefit options for full-time employees and their families! Many Certificated positions also offer signing bonuses on two-year agreements.
Applications are accepted online for all positions at www.EdJoin.org/StocktonUSD.
We are currently hiring for the following permanent and substitute Classified positions:
Bus Drivers
Bus Attendants
Bus Driver Instructor
Carpenter
Special Education Assistants*
Food Services
TK Assistants*
Pre-School Assistants*
Custodial/Maintenance
Audio/Visual Tech
Locksmith
Security Staff
Clerical Positions
Police Officers and Dispatchers
Bilingual Assistants*
Community Assistants*
Facilities
Mechanics
Electricians
We also have Certificated positions available for interview:
Early Childhood Education Teachers
TK-12 General and Special Education Teachers
Speech and Language Pathologists
Substitute Teachers
Applications are also accepted online for all certificated and all permanent classified positions at www.EdJoin.org/StocktonUSD.
Our mission is to graduate every student college, career, and community ready. In doing so, we lift all youth out of circumstances of poverty and scarcity.
---
Stockton Unified's Hiring Center is now open on Mondays from 8 AM - Noon.
Candidates should bring copies of resumes and important documents, such as unofficial transcripts and certifications. We will offer on-the-spot interviews and opportunities to speak with different departments within the district. This is also a time for candidates to apply for permanent and substitute positions and access assistance with the application process.
For a listing of all classified positions that are currently open, click HERE.
For a listing of all certificated positions that are currently open, click HERE.