Phone: (209)565-0145
Email:
Degrees and Certifications:
California State University Sacramento, Sacramento, CA, 2016 Bachelors of Arts in Social Science California State University Sacramento, Sacramento, CA, May 2017 Single Subject Teaching Credential in Social Science English Learner Authorization
Mr. Garibay
"I'm not saying I'm gonna change the world, but I guarantee that I will spark the brain that will change the world" -Tupac Shakur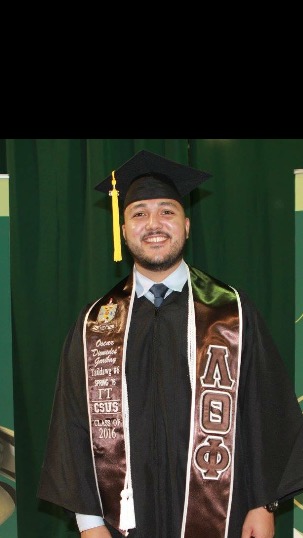 Hello, my name is Oscar Eduardo Garibay. Welcome to my website. I received my teaching credential at California State University, Sacramento (CSUS). When I first started at a community college, I didn't want to be a teacher, I didn't know what I wanted to do in life. I was just going to school because I knew that getting an education was something that I had to do in order to fulfill my parents wishes. However, all that changed when I started working for California Mini Corps where I helped migrant students who were struggling in school. Majority of these students were Latinx and lived in immigrant households like I did. Working with students with the similar background as me and being able to help them succeed in school is what inspired me to become a teacher. Once I entered the university and started taking classes I started to be exposed of the injustices and inequalities that has occurred in society and which are still occurring. My experiences throughout my education and throughout college has led me to form a certain view of how I should be as a teacher.

My Life


I was born and raised in Stockton, California. I grew up in an immigrant house hold where my first language was Spanish and grew up speaking it. I also grew up embracing my Mexican culture which has played a significant role in my life. Coming from a Mexican Immigrant household has led to me have a different experience in the education system then the rest of my peers. This experience has led me to have a different view on education and my role as a teacher.
Growing up my education wasn't the best since the education system wasn't geared in embracing bilingual students. Throughout elementary I was placed in an English Language Development class where I was always taken out of my regular class in order to better my language proficiency. It felt like they were trying to force the English language on me and wanted me to forget my primary language. School Staff always warned my parents that taking trips to Mexico would affect me from advancing in English. But as I grew up and continued my education in middle school, I was still being placed in an ELD class on top of having two English classes. This upset me since I believed that I was proficient in English. As I got into high school, my education didn't improve since I was being placed in lower classes where I felt that I wasn't being challenged academically. All that changed when I moved houses and was put into a school that was part of a different district. This switch allowed me to witness firsthand the inequality that is occurring in the education system which I hope to change as I entered the education field.